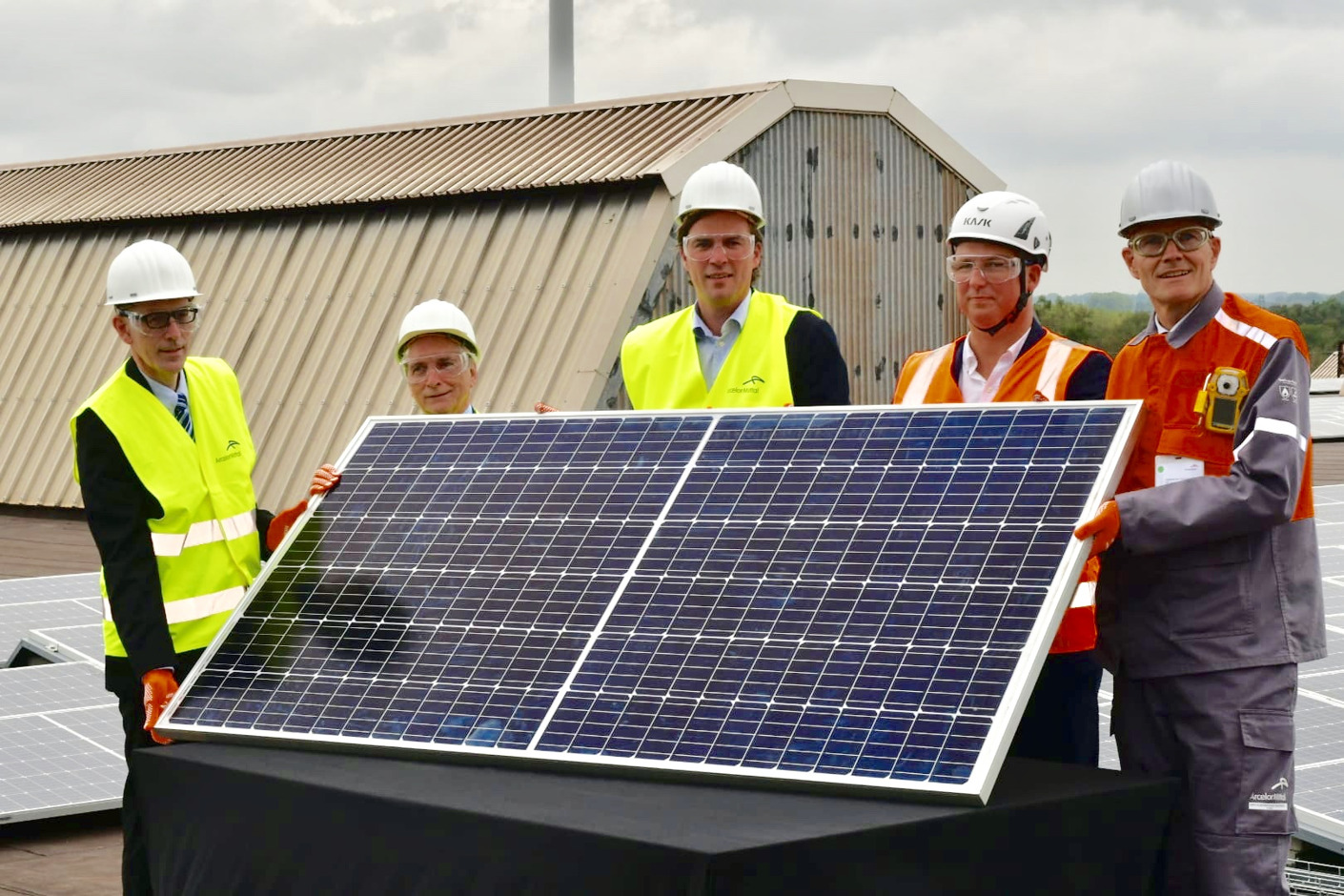 Monday, September 16, 2019
Eneco and ArcelorMittal unveil Belgium's largest solar roof
Employees of ArcelorMittal Belgium have the opportunity to invest in more than 27,000 solar panels at the Ghent site
The installation of more than 27,000 solar panels on the roof of ArcelorMittal in Ghent has been completed, resulting in the largest sunroof in Belgium. Installed by Eneco, this is their largest project to date. The energy supplier thus assists ArcelorMittal Belgium in becoming more sustainable. The power generated will be used internally by ArcelorMittal in Ghent. More than 5,000 employees are also given the opportunity to co-invest in the solar panels and benefit from the revenues.
Throughout the previous months, Eneco -the largest solar energy producer in Belgium- has installed a 7.5 million euros solar roof at ArcelorMittal in Ghent. The park consists of 27,104 solar panels for which 157.2 tons of steel was used. The total weight of the installation amounts to 1.5 million kilos. This means that ArcelorMittal now owns the fourth largest solar park in Belgium and even the largest solar park in Belgium on one and the same roof.

Reinforce sustainability strategy

The new solar panels will produce 10.000MWh annually, equal to the energy consumption of 2,900 households. The solar panels, together with the site's (current) 10 wind turbines and the 2 additionally planned wind turbines, will soon provide approximately 50MW of renewable power to the Ghent site. The sustainable energy that is generated is used entirely internally to feed the production of ArcelorMittal in Ghent.

Today, ArcelorMittal Belgium is a world-leader in energy efficiency and reducing CO2 emissions. With this investment, the company reinforces the implementation of its sustainability strategy. ArcelorMittal Belgium follows the climate agreement of Paris. The site's emissions are already 25% lower than in 1990, which is 20% better than what the Paris climate agreement demands. By 2027, ArcelorMittal Belgium aims to produce 43% fewer emissions, with the ambition of being carbon neutral by 2050.*
"The renewable energy generated by these 27,104 solar panels supports us in achieving our ambition to be climate-neutral by 2050. We're fully committed to this ambition and excited to launch Belgium's largest solar roof. Alongside our soon to be installed additional wind- turbines, we're again taking steps in the right direction. In addition, the new solar panels are also a good example of the importance of steel in our daily lives. The panels are fixed on a framework made of steel coated with Magnelis®. The Magnelis® steel, produced at our production site in Liège among others, is a strong illustration of sustainability. It guarantees the long-term viability of each solar park, regardless of the environment in which it is located. Steel clearly is a sustainable product for a more sustainable future."
Manfred Van Vlierberghe, CEO ArcelorMittal Belgium
More than 5,000 employees have the chance to co-invest in solar panels

The 5,800 employees of ArcelorMittal Belgium who work at the sites in Ghent, Genk, Geel and Liège have the opportunity to invest in the solar panels and to benefit from the revenues. They are offered this opportunity by means of crowdlending, a loan whereby the collaborators lend money to Eneco for a period of six years. They receive a guaranteed gross return of 4 percent for their investment. Each employee can invest between 250 euros and 1000 euros to ArcelorMittal Belgium for the solar roof.
"If you, for example, lend 500 euros, you will earn an extra 20 euros a year. In six years' time, the employee earns 120 euros. After the term, (s)he will recover the original investment of 500 euros as well. Through crowdlending, we want to actively involve the employees in this sustainable project. By doing so, we hope to raise their awareness about the importance of sustainable energy and reward them for their efforts. We are therefore delighted that a major industrial player such as ArcelorMittal Belgium is reflecting on its energy consumption and is actively contributing to making a greener future possible for future generations".
Iwein Goigne, CEO Eneco Solar Belgium
For Eneco, this is the second project, after Volvo Car Gent, in which employees can participate by means of crowdlending.
Fast growing energy vision within Ghent industry
The initiative of ArcelorMittal Belgium and Eneco is in line with the Flemish Government's Energy Vision for 2021 - 2030. This Energy Vision states that energy consumption must be significantly reduced and that the industry must be 10% more energy efficient by 2030.
"Large renewable energy projects such as those at ArcelorMittal Belgium are necessary in order to put in place a real energy transition. It makes a big difference to a company's energy bill, but also to the achievement of the renewable energy targets in Flanders. Many companies in the Ghent port area realize that this change of our mindsets is crucial and we are therefore pleased to see that the concrete implementation of the Energy Vision is being taken seriously."
Lydia Peeters, Flemish Deputy Prime Minister and Flemish Minister of Finance, Budget, Energy & Culture
"I am pleased that ArcelorMittal continues to focus on the reduction of CO2 reduction and energy efficiency. The investment in this new solar park is one of their projects to achieve the ultimate goal of becoming carbon-neutral by 2050. In this way, our industry is working towards a sustainable and climate-neutral society."
Koen van den Heuvel, Flemish Minister of the Environment, Nature and Agriculture
"The city of Ghent and the North Sea Port are committed to renewable energy, CO2 reduction and reuse. By installing solar panels and solar parks in the cross-border port area, like at ArcelorMittal in Ghent, the port companies are generating renewable energy which is injected into the electricity grid, accounting for the equivalent of more than 31,000 households. In this way, our port is increasingly becoming a sustainable Energy Port, and together with all port companies, we are building a climate-neutral city by 2050."
Mathias De Clercq, mayor of the city of Ghent
ArcelorMittal Belgium continues to work on similar projects at its sites in Liège, Genk and Geel.
(* More info on the climate strategy of ArcelorMittal Europe: climate report)
About ArcelorMittal Belgium

ArcelorMittal Belgium, with production sites in Ghent, Liège, Genk and Geel, has 5,800 employees. The total direct and indirect employment is estimated at 13,000 jobs. The company produces high-quality steel for a wide range of applications in the automotive sector and other industrial sectors such as the construction sector, the white goods sector, the packaging sector, etc.
More info on belgium.arcelormittal.com
About Eneco

Eneco Belgium is a sustainable energy company that focuses on the production and supply of gas and electricity from renewable sources such as solar and wind. Eneco is a leading player in the supply and production of renewable energy and one of the largest players in the wind sector with more than 1,000 MW of renewable production capacity in Belgium, the Netherlands, Germany and the United Kingdom. Eneco has been active on the Belgian consumer market since 2011 and has the ambition to supply 100% renewable energy generated on Belgian soil through 96 wind turbines and already 295,000 solar panels. The company is also building Norther, the largest wind farm off the Belgian coast. In total, Eneco Belgium already supplies green electricity and gas to more than 1 million residential connections and 55,000 business connections. Eneco offers great and reliable investment opportunities for citizens and for the local community thanks to the various investment programs it has in place. This ranges from crowdfunding, bonds and direct participation through cooperatives. Eneco is committed to a New - fully sustainable - World, going beyond generating and distributing sustainable electricity. The company also focuses on energy efficiency through insulation projects, solar panels, energy storage, electric charging stations and other innovative products and services. Eneco Belgium has more than 300 employees and is based in Mechelen, Ghent and Wavre.
More info on www.eneco.be
Jan Cornelis Spokesperson, ArcelorMittal Belgium